Rev. John Rowe
The Early Years – Embden, Maine
Rev. John Rowe was born April 25, 1814 in Embden, Maine, son of John Rowe (born 1784, Barrington, New Hampshire) and Thankful Perhaps Stevens (1789-1860).  His parents were married April 10, 1809 in Ansom, Maine.  But, in 1832, at age 48, his father died, leaving Thankful a widow with five children, the future Rev. John Rowe being the oldest.  As the book, Embden Town of Yore, published in 1929, put it, "Thankful Rowe had tribulations in support of her little family." These included a lawsuit against her brother and a sheriff's sale involving a land dispute.
There is even a family tradition that John ran away from home when his mother remarried, but since that marriage was not until 1847, when John was 33, some details of the story seem to have been garbled.
In the meantime, Rev. John Rowe was only 18 when his father died in 1832.  Some seven years would pass before he enrolled in college in Pennsylvania in 1839 at about age 25.   His college education would determine his course in life.  So, what was he doing during those seven years prior to starting college?  As the oldest in the family, it may be that he was working on the family farm to help support the family.  Another possibility is that, because records later show him working as a land surveyor in Ohio, perhaps he was learning the profession of surveying and making a living at it in Maine.  (For more on his surveying, see below.)
College Enrollment – Jefferson College, Canonsburg, Pennsylvania
The History of Jefferson College published in Pittsburg in 1857 lists John Rowe as having graduated in 1843.  It also notes that an honorary degree of Minister of the Gospel was conferred on him.  There seems to have been a collaboration between Jefferson College in Canonsburg, PA and the Western Theological Seminary (see below).
The Wikipedia article on Canonsburg says the town was "the site of the first institution of higher learning west of the Allegheny Mountains, Jefferson College.  Founded in 1802, it was the eleventh such institution in the United States."  (Jefferson College would later become Washington & Jefferson College in the nearby town of Washington.)  Jefferson College was the financial mainstay of Canonsburg until it moved to Washington in 1868.  According to the Wikipedia article on Canonsburg, the town had a population of only 687 in 1840, whereas according to Jefferson College's 1843 catalogue, the college had a total student body of 206.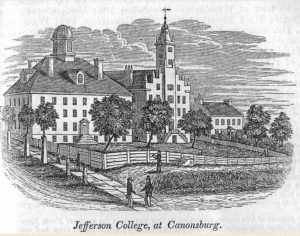 It is interesting to speculate how Rev. John Rowe came to enroll in Jefferson College.  The Catalogue of the Officers and Students of Jefferson College, Canonsburg, Pa., July 1843 identifies the county and state of origin for each student.  Seventy-one percent were from the State of Pennsylvania.  The second highest place of origin was seven percent from Ohio.  There was only one student from Maine, John Rowe.  How did he even become aware of the college?  Perhaps a local pastor in Embden, Maine had graduated from it.  Also, how did John afford tuition and board and room?  The catalogue estimated total expenses, presumably per semester, including tuition and board at $120, or $3793 in 2017 dollars.  As the catalogue notes, "A valuable farm is connected with the College, affording facilities for reducing the expenses, and promoting the health of the students who engage in manual labor."  Housing may have been organized through the college's Literary Societies, which the catalogue notes "are on the very best footing; and the Halls for their accommodation more commodious and tasteful than any for the like purpose in the Western country."  According to the Catalogue of the Franklin Literary Society of Jefferson College, John Rowe was one of its members.
The curriculum at Jefferson College was as follows: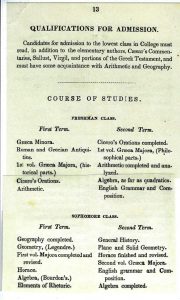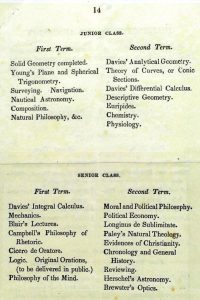 John Rowe's two diplomas from Jefferson College appear below followed by a certificate from the Franklin Literary Society.  The corresponding pdf files for them are as follows: img-419141134 , img-419141355  , and img-419140949.  If an image is not positioned correctly, use the rotation arrow in the upper right corner.
Jefferson College Diplomas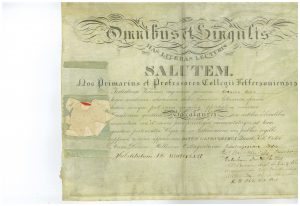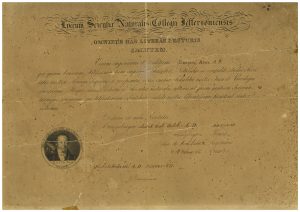 Certificate from the Franklin Literary Society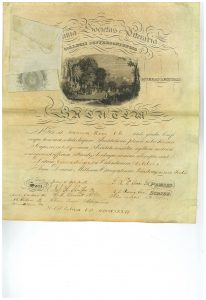 The following engraving shows how industrialized nearby Pittsburg was by 1839, not long before John Rowe began his education.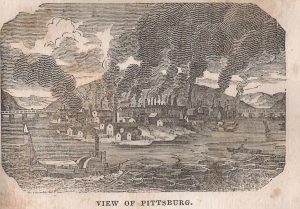 We are fortunate that the Triennial Catalogue of the Western Theological Seminary of the Presbyterian Church, Allegheny City, PA, 1850-1851 gives us some information on Rev. John Rowe's theological training.  It lists him as an alumnus  in 1843, as well as having completed two years in the seminary.  His first year of study at the seminary consisted of the following:
Hebrew Language.
Exegesis–Greek Testament.
Biblical Antiquities.
Evidences of Christianity.
Canon of the Scriptures.
Exercises in Elocution.
Sacred Rhetoric.
Biblical History.
Natural Theology.
The second year involved the study of:
Exercises in Homilectics [the art of preaching].
Connection between the Old and New Testament.
Also between Sacred and Profane History.
Ecclesiastical History and Exercises in Historical Composition.
Didactic Theology.
Greek Exegesis, continued.
Hebrew continued–Messianic Prophecies.
A third year of study is also listed in the Triennial Catalogue a being offered, but it is not clear if this was required of John Rowe.
Every student applying for admission into the Seminary was required to"produce satisfactory testimonials, that he possesses good natural talents, and is of a prudent and discreet deportment; that he is in full communion with some regular church; that he has passed through a regular course of academic study; or, wanting this, he shall submit himself to an examination in regard to the branches of literature taught in such a course."  Students were expected "to connect themselves with some evangelical church in [Allegheny or Pittsburg], both of which are  during their course of study, and to perform all the duties of regular church members, have the advantage of complete pastoral training, and a most valuable experience, added to the attainment of piety and solid training."  [Note that Pittsburg and the former municipality of Allegheny are on opposite sides of the Allegheny River.]
[Note the following from the website for the Pittsburg Theological Seminary: "Western Theological Seminary, the other branch of Pittsburgh Theological Seminary's pre-1959 history, began with the establishment of classical academies in Washington, PA, the first in 1785 by Joseph Smith and another in 1787 by John McMillan. Out of these academies, the General Assembly of the Presbyterian Church USA created Western Seminary. It was indeed a western seminary in 1825, furnishing a ministry for the rapidly opening frontier territories along the Ohio River."]
The Great Fire of 1845
It is not clear where Rev. John Rowe was in 1845, the year of the Great Fire.  Identifiable dates have him graduating from Jefferson College and the Seminary in 1843 and being licensed to preach in Steubinville, Ohio in 1846.  In 1845 he still may still have been in the Pittsburg area and might have experienced the terrible conflagration.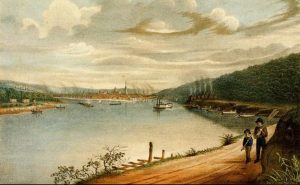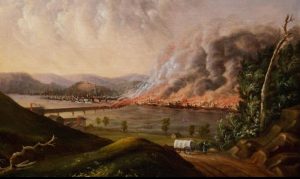 The Great Fire of 1845 occurred on April 10, 1845 destroying a third of the city and causing between $6 million and $12 million in damage.  As the Wikipedia article on the subject notes, "The bells of the Third Presbyterian Church had given the original alarm, but the church itself was only preserved by dropping its burning wooden cornice into the street. Once saved, its stone walls served as a barrier to the further spread of the fire toward the north and west."  Was John Rowe a part of fighting the fire?
The Move West to Ohio
As Wikipedia notes, "because the Ohio River flowed westward, it became a convenient means of westward movement by pioneers traveling from western Pennsylvania." With the river serving as a major transportation route west, and with it originating in Pittsburg, Pennsylvania, it seems likely that Rev. Rowe used it sometime between 1843 and 1846 to move west to Ohio.  He could have caught a river boat virtually on his doorstep because the Allegheny River and the Monongahela River merge and become the Ohio River in Pittsburg.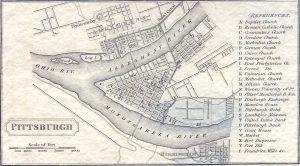 It seems likely that he made his way down the Ohio on one of the forms of river transportation in the photo below: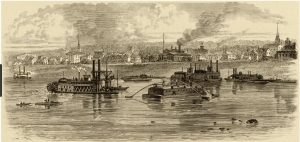 The Ohio River is the southeastern and southern boundary of the State of Ohio, separating Ohio from West Virginia and Kentucky.  Native Americans used it as a major trading and transportation route.  Wikipedia has this to say about the river:
"During the 19th century, the river was the southern boundary of the Northwest Territory. It is sometimes considered as the western extension of the Mason–Dixon Line that divided Pennsylvania from Maryland, and thus part of the border between free and slave territory, and between the Northern and Southern United States or Upper South. Where the river was narrow, it was the way to freedom for thousands of slaves escaping to the North, many helped by free blacks and whites of the Underground Railroad resistance movement."
However, the Ohio River would freeze in winter and if John Rowe had to travel to Ohio at that time of year, he probably made use of Ohio roads "made of plank logs to allow easier passage through the mud.  Almost every year new planks had to be laid as the old planks sank into the mud."  (See Transportation in Ohio from Ohio Memory.)
According to the book, Emden, Town of Yore, Rev. John Rowe was licensed to preach in April, 1846, by the Presbytery of Steubenville,  a town on the eastern border of Ohio.  (It is interesting to note that while at Jefferson College, John might have met Hon. H.H. Leavitt, a member of the Jefferson College Board of Trustees from Steubinville who was a federal judge.  And he certainly would have known a fellow student, John Boyd, who was in the same senior class, also from Steubenville.)  The Ohio History Central website tells us that "By the late 1840s, Steubenville was a flourishing community of 7000 people including a sizable number of African Americans.  It had eleven churches, five woolen mills, two glass factories, a paper mill, and an iron foundry.  Coal mined from the surrounding area powered most of these manufacturing establishments.  There were also two private schools in Steubenville by 1846 — one for boys and one for girls."  Beer brewing was also a major industry in Steubenville   A notable figure John Rowe might have met in Steubenville was Edwin M. Stanton, who was selected by Steubenville city residents to be city solicitor in 1847 and later was President James Buchanan's Attorney General and President Abraham Lincoln's Secretary of War during the Civil War.
Next, John was ordained by the Presbytery Hocking, of Hocking County, whose county seat is Logan in the southeast portion of the state, in October, 1847.  According to an article in Memorial Chimes in 1906 (see below) about Lydia Augusta Rowe, for a period following his marriage to Lydia in April 1848 and probably from about 1848 to 1850, he served as Principal of the Young Ladies' Academy in Ashland, Ohio. He also preached at Burlington, Olivesburg, Gallipolis from '55 to '67 and then was a teacher for five years.  With the exception of Hocking County, in south central Ohio, and Olivesburg, in north central Ohio, and until he moved to Springfield permanently in 1864, most of the places where he lived were close to the Ohio River and the southern border of the state.  During one period, 1859-1860, he was preaching at Point Pleasant, West Virginia, which is slightly upriver of Gallipolis.  (Hardesty's West Virginia Counties, Vol. 1, Richwood, W.Va.: Jim Comstock, 1973, pg. 141.  Even with living in Gallipolis in Ohio, it seems it would not have been difficult for him to find transportation across the river to the West Virginia side.
Pastoral Duties as Minister
The Gallipolis Journal of Gallipolis, Ohio published notices of at least eight weddings performed by Rev. Rowe between 1851 and 1864.  Very likely there were more.  The Reformed Presbyterian and Covenanter, published in Pittsburg in 1864, noted that "On the 18th of December (1863), our beloved friend and brother, the Rev. John Rowe, of Gallipolis, preached, at the residence of the husband of the deceased, an excellent and very appropriate funeral discourse from 2d Cor. 5:1 'For we know that if our earthly house of this tabernacle were dissolved, we have a building of God, an house not made with  hands, eternal in the heavens.'  The religious services being ended, her mortal remains were conveyed to the Smeltzer grave yard, followed, though the day was intensely cold, by many kind neighbors and sympathizing friends, and there interred in the cold and silent tomb, and in the hope of a glorious resurrection at the last day.  This sacred transfer of 'earth to earth and dust to dust,' left a serious impression on the hearts of all those present, that 'the hour is coming in which all that are in their graves shall hear His voice, and shall come forth, they that have done good, unto the resurrection of life; and they that have done evil, unto the resurrection of damnation.'  John 5″ 28, 29.
In 1863, Rev. Rowe joined with two other ministers, one Methodist, another Presbyterian, at joint Thanksgiving services at the Methodist Church in Gallipolis.  Rev. Rowe also officiated at the services.  "At the close of the exercises, a collection for the benefit of the soldiers, in aid of the Christian Commission was taken up, which amounted to sixty-five dollars."  (Gallipolis Journal, Dec. 3, 1863)
John served as secretary of the Gallipolis Benevolent Association in 1863 and 1864.  Two reports by him in that capacity appeared in the Gallipolis Journal.  The second report appears below:
John Rowe was also president of the Gallia County Bible Society.  The following notice was published in the Gallipolis Journal, May 12, 1864.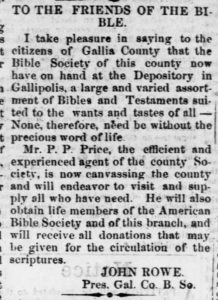 Marriage of Rev. John Rowe and Lydia Augusta Greene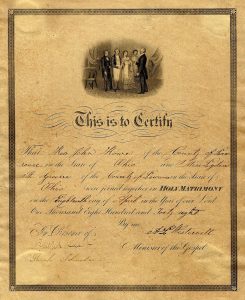 On April 18, 1848, when he was almost 34, John Roe married Lydia Augusta Greene in either South Point or Burlington, Ohio.  [However, marriage records on ancestry.com show them marrying in Lawrence, Ohio on that date.  The two towns are very close to each other at the southernmost corner of Ohio.  As Wikipedia notes, "Burlington was once the leading community of Lawrence County, being the first county seat and the location of the county's first post office."]  Since Lydia was born in Burlington, it seems likely that they first met there.  However, the Embden, Town of Yore book notes that "Rev. John Rowe married late–April 18, 1848.  His wife was Lydia A. Greene of the Gen. Nathaniel Greene family of Rhode Island.  It is not unlikely that he met her while residing at Embden and from an acquaintance with Joseph N. Greene of Embden."  However, it seems more likely that they met in Burlington, Lawrence County, Ohio.  The history of the Burlington Academy that lists Rev. John Rowe as the second superintendent also lists the students including a Phoebe Greene and a Lydia Greene. And records list Lydia's birth as being Oct. 23, 1827 in Burlington, Ohio.  John and Lydia had eight children, born from 1849, when their mother was 22, to 1869, when she was 42.  A search for news items about Lydia located just one from 1886 when they were living in Springfield, Ohio.  A New Year's reception at Temperance Hall being given by the Women's Christian Temperance Union lists her as one of the members who would be receiving guests.
Rowe Family Photos
Two photos of Rev. Rowe from Bolinger family photo albums appear below.
Showing a bit of grey in his beard, we have the following: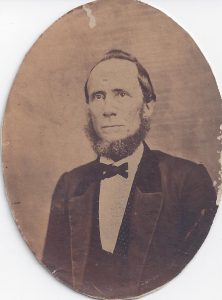 And, lastly, with a twinkle in his eye, there is the following: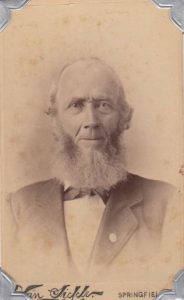 Lydia Augusta Rowe (née Greene) appears as follows: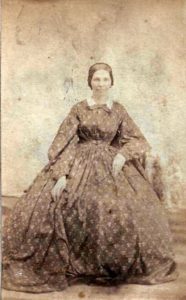 A photo taken much later of Lydia is as follows: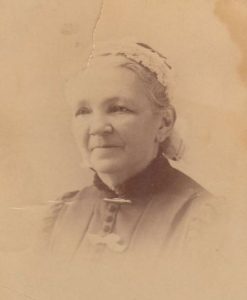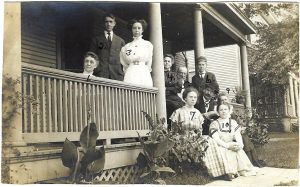 Map of Lawrence County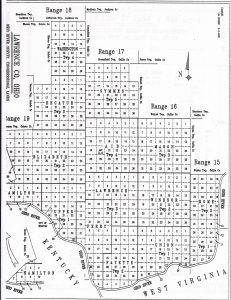 Rev. John Rowe's Work as a Surveyor
It seems unlikely that a Presbyterian pastor was paid very much in the small towns of Ohio in the mid-Nineteenth Century and that he may have had to find a way to supplement his income.  It appears that in his case it was by working as a land surveyor.  We have five references to him as a surveyor.  An article published in the Ironton (Ohio) Register in 1895 about the history of the Burlington Academy (founded in 1842) lists him as its second superintendent and also as "a surveyor by trade".  Next, an advertisement placed by Rev. Rowe in the Gallipolis Journal (Gallipolis, Ohio) in 1855 offers a set of surveying equipment for sale by him.  Note that his term in office as Lawrence County Surveyor ended in 1854 (see below).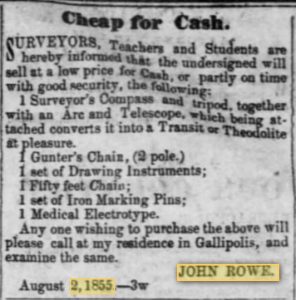 The theodolite listed above is defined on Wikipedia as "a precision instrument for measuring angles in the horizontal and vertical planes. Theodolites are used mainly for surveying applications."  A photo of a Gunter's chain appears below.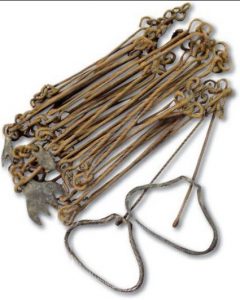 For further information, see Wikipedia's article on surveying.
Candidacy for Public Office
Newspaper lists of candidates for office, show John Rowe running for the office of County Surveyor in 1853 when he was living in Greene's Store, Lawrence County, Ohio.  A History of Lawrence County Engineers, the title that superseded County Surveyors, from 1817 to 1887, shows John Rowe serving in that office from 1851-1854.  The History states that the term of office was three years.  Just why he was running in 1853 is unclear.
He ran again, in 1861, when he was living in Gallipolis, Gallia County, Ohio.  This time he was part of the Union County Ticket (see near bottom of the clipping).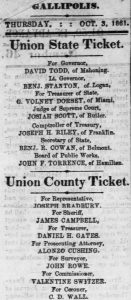 According to the Ohio History Collection, the Union Party was formed in Ohio during the American Civil War and consisted of members of the Republican Party and pro-war members of the Democratic Party who united behind the North's war effort.  The war began April 12, 1861.  Even if he had lost in the 1853 election, being a part of the Union Party slate in 1861 may have ensured his election.
Duties of the County Surveyor
The clarification of land titles and boundaries was the major function of the county surveyor (later known as the county engineer).  Some of Ohio's county surveyors were involved with building Ohio's network of canals, and virtually all were called upon to spend more and more time developing the state's integrated system of good roads.  The Legislature, in 1831, made the position elective for a term of three years.  By the late 19th Century the county surveyor was almost totally involved with building and maintaining roads, bridges, and drainage ditches, but received no salary, instead, receiving $5 per day only on those days when actually employed.  (Source: Ohio County Engineers Since 1803.)
Rev. Rowe and Lydia Rowe During the Civil War
Rev. Rowe turned 47 a few days after the war began.  That and having a wife and six small children would seem to mean that there was little likelihood he would have served in the Army.  But there were other ways he could help.  At the third mass war meeting for Gallia County in September 1862, for example, "the exercises commenced with  fervent prayer by Rev. Mr. Rowe."  (Gallipolis Journal, Sept. 4, 1862).  While they were living in Gallipolis, Ohio, Lydia ministered to the wounded and needy Union soldiers located nearby.  On August 22, 1895, Rev. Rowe was one of three speakers mentioned at a Soldier's Reunion in Ironton, Lawrence County (Ironton Register, Aug. 1, 1895).
Rev. John Rowe's Contribution as a Teacher
Rev. Rowe's interest in education is reflected several times in news stories.  In 1858 he was serving as an examiner for the recruitment of teachers as shown in the news item below: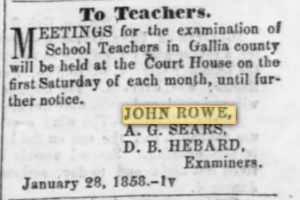 "The Daily News of Springfield on Sept. 1, 1855 [sic–this is probably was 1865], carried the following notice: "Classical and Mathematical High School, Springfield, Ohio.  The seventeenth session will open on Monday.  The Rev. John Rowe will hereafter be an associate principal; a gentleman of high literary attainments and for seven years a successful instructor in some of the best academies of the state.  Young gentlemen will be thoroughly prepared for entering the best colleges of the country.  W. McGookin.  John Rowe."
At a meeting of the Clarke County at Springfield, March 26, 1881, four members read papers, each followed by a panel discussion.  Rev. John Rowe read a paper entitled, "Simplicity versus Fiction."  (The Ohio Educational Monthly and the National Teacher: A Journal of Education, Vol. VI, Salem, Ohio, 1881, pg. 154.
In an obituary published in the Educational Monthly and The National Teacher, A Journal of Education, Vol. XL, Akron, Ohio: Samuel Findley, Publishers, 1891, pg. the authors said of Rev. Rowe: "He spent his life in pastoral and educational work.  He entered the ministry of the Presbyterian Church, from the activities of which failing health subsequently compelled him to retire.  He was always closely identified with educational interests, teaching in public and private schools, and serving for more than twenty-five years as secretary of county boards of examiners in Lawrence, Gallia, and Clarke counties.  His interest in teachers and teaching continued to the end of his life.  He was a regular attendant at the Clarke county institute last summer [in 1890]."  His obituary in the Springfield Republic Times of Feb. 17, 1891 mentions that he was the secretary of the county board of education at the time of his death.
The 20th Century History of Springfield, and Clark County, Ohio and Representative Citizens, William M. Rockel, ed., Chicago: Biographical Publishing Co., 1908, listed five "worthies", including Rev. Rowe, "all of whom spent many years of their lives in the cause of popular education."
Time in Gallia County
The Rowes lived in Gallia County, Ohio from about 1855-1864.  The map below shows Gallipolis, where they lived, on the west bank of the Ohio River, with West Virginia on the other side of the river.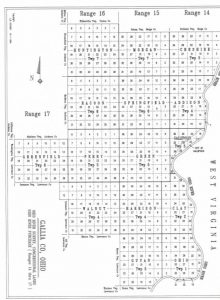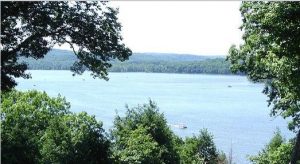 The Family Moves to Springfield, Ohio
John Rowe wrote the following note to the editor that appeared in the Gallipolis Journal, Nov. 3, 1864:
"After experiencing the kind consideration of the citizens of Gallipolis for nine and a half years, it is with heartfelt gratitude that I record a surprise visit from a large number of them last evening, just as we were preparing to remove from the place to a neighboring city [apparently referring to Springfield] in Ohio. To them, and all other friends of the town and vicinity, I take this opportunity to tender an affectionate farewell on part of myself and family, with the assurance that our earnest prayer is for their success in every good work, in the business of life, and for their eternal well-being."  Signed [John Rowe].
The Home and Foreign Record of the Presbyterian Church of the United States of America, vol. XVI, Philadelphia, January 1865, pg. 24, also made note of Rev. Rowe's move from Gallipolis to Springfield, Ohio.
Rev. Rowe's Intellectual Interests
"Mrs. Fannie Folger Grant, of Easton, Pa., one of Rev. John Rowe's grandchildren writes that 'he gathered together quite a fine library and was much interested in astronomy.  He buried his books in the ground to save them from the Rebels during the Civil War at which time he was at Gallipolis."  Perhaps his experience as a land surveyor, involving measuring angles on an earthly plane, influenced his interest in astronomy because of the need to understand the motions of planetary objects.
Rev. Rowe and Lydia Rowe During the Prohibition Movement
In an obituary about Lydia Rowe written by her son-in-law Rev. Hamilton Ott in the Memorial Chimes of Topeka, Kansas, May 1906, he said that after moving to Springfield, Ohio, Lydia "enrolled herself as one of the band of faithful women who founded the W.C.T.U. at that place.  In 1874-1875 she was a leading spirit among the Ohio 'Crusaders' during that widespread movement in which the liquor dealers were made subjects of prayer in the streets by bands of praying women.  She often told of how on one occasion she was locked up in a saloon for several hours while standing 'guard' at the entrance of a dram shop.  She has been President, Treasurer, and Superintendent in the local W.C.T.C. off and on for thirty years.  For years she labored side by side with Mother Stewart in various temperance movements.  Her last effort a few months ago was the writing and reading of a paper on 'Non Alcoholic Medication' before the District W.C.T.U. Convention."
Already mentioned above was a news report in 1886, when they were living in Springfield, Ohio, that at a New Year's reception at Temperance Hall being given by the Women's Christian Temperance Union, Lydia was listed as one of the members who would be receiving guests.  But in addition, according to Rev. Rowe's obituary in the Springfield Republic Times of Feb. 16, 1891, "Rev. Mr. Rowe was one of the pioneers of Prohibition in the state and county and a familiar figure at all gatherings of that political faith among us."
Census Records
The 1850 Census is the first federal decennial census to list each member of a household.  The Rowes were listed as living in Fayett(e) Township, Lawrence County, Ohio.  The ages of John Rowe and his wife Lydia are reversed.
John Rowe.  Age 22 (sic).  Minister.  Value of real estate was $700, the equivalent of $21,457 in 2018 dollars.  Born in Maine.
Lidia (sic) Rowe.  Age 36 (sic).  Born in Ohio.
Laura Rowe.  Age 2.  Born in Ohio.
Cynthia Thomas.  Age 14.  Born in Ohio.  She may have been household help.
The 1860 Census is useful because it pinpoints where the family was living in 1860, specifically, in Gallipolis, Ohio.  But most interesting is that John Rowe's occupation is listed as "O.S. Presbyterian," identifying his position in a doctrinal split within the Presbyterian Church, i.e., the "Old School Presbyterian."  Wikipedia describes the schism as follows: "The Old School-New School Controversy was a schism of the Presbyterian Church in the United States… which took place in 1837 and lasted for over 20 years.  The Old School … was much more conservative theologically and was not supportive of revivalism.  It called for traditional Calvinist orthodoxy….  The New School … wholly embraced revivalism."
The following shows the makeup of the family:
John Rowe.  Age 46.  O.S. Presbyterian.  No entry for the value of his real estate.  Value of his personal property is $1100.  Born in Maine.
Lydia Rowe.  Age 32.  Born in Ohio.
Laura Rowe.  Age 11. Female.  Born in Ohio.  Attended school within the year.
Mary Rowe.  Age 8.  Female.  Born in Ohio.  Attended school within the year.
Jennie Rowe.  Age 5.  Female.  Born in Ohio.
Jessy Rowe.  Age 5. Female.  Born in Ohio.
David Rowe.  Age 3.  Male.  Born in Ohio.
Lydia Rowe.  Age 1.  Female.  Born in Ohio.
Francis Peterson (sp?).  Age 15.  Female.  Domestic.  Born in Virginia.
The 1870 Census provides some additional information.  The family is shown living in the Third Ward in Springfield, Ohio.  They are as follows:
Rowe, John.  Age 56. Presbyterian minister.  There is no entry for the value of his real estate.  The value of his personal property is set at $5215.  And he was born in Maine.
Rowe, Lydia.  Age 42.  Keeping house.  Born in Ohio.
Rowe, Laura. Age 21. At home.  Born in Ohio.
Rowe, Mary.  Age 18.  Teaching. Born in Ohio.
Rowe, Jennie.  Age 15.  At school.  Born in Ohio.
Rowe, Jessie.  Age 15.  At school. Born in Ohio.
Rowe, David.  Age 13.  At school.  Born in Ohio.
Rowe, Lydia.  Age 11.  At school.  Born in Ohio.
Rowe, John.  Age 8.  At school.  Born in Ohio.
Rowe, Fannie.  Age 5.  Born in Ohio.
Rowe, Barton.  Age 8 mos.  Born in Ohio.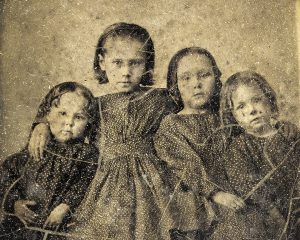 The results of the 1880 Census are as follows:
Rowe, John.  Age 66.  School teacher.
Rowe, Lydia A.  Age 52.  Wife.  Keeping house.
Rowe, Jesse.  Age 25.  Daughter.  Clerk in office.
Rowe, David S.  Age 25.  Son.  Machinist.
Rowe, Lydia A.  Age 21.  Daughter.  School teacher.
Rowe, Lydia.  Age 14.  Daughter.  At school.
Rowe, Elias B.  Age 10.  Son.  At school.
Obituary of Rev. John Rowe
John Rowe died Feb. 15, 1891 in Springfield, Ohio, at the age of 77.  That he was held in high esteem is clear.  In the Ohio Educational Monthly and National Teacher, Vol. XL, pg. 193, the teachers of Clarke County (Springfield, Ohio) adopted the following resolution:
"The all-wise Father having called to his great reward our revered friend, Rev. John Rowe, the Clarke County Teachers' Association desire to express the esteem in which he was held.  For many years he has been a valued member of the Association, always present at our meetings and always interested in our labors and discussions.  Since he was so closely related to us and a part of every educational work, although unobtrusive to a degree, we know that his loss will be felt more and more.
"Spotless in character, gentle in disposition, Mr. Rowe was both admired and revered, and made himself beloved.  Such a life as his must leave an impress of inestimable value upon those who came in contact with him.
"As we express our grief and our sense of loss in his demise, we do not forget to offer to the family bereft our sincere sympathy.  Full of years, universally respected, having spent a life of usefulness, he has passed to the life eternal."
(Signed, E.M. VanCleve, J.W. Wood, Anna M. Torrence, Committee)
Rev. Rowe's obituary in the Feb. 16, 1891 Springfield Republic Times announced his death.  "At 1 o'clock Sunday afternoon occurred peacefully the anticipated event of the death of the Rev. John Rowe, at the residence, No. 247 West Mulberry street, after three weeks of suffering, patiently borne, with true Christian fortitude."  The Feb. 17, 1891 issue of the Springfield Republic Times added that "Mr. Rowe was an exemplary man and citizen, and he will be greatly missed by a large circle of friends."
Rev. John Rowe is buried in the Ferncliff Cemetery in Springfield, Ohio.  Thanks to Find A Grave, we have the following photo: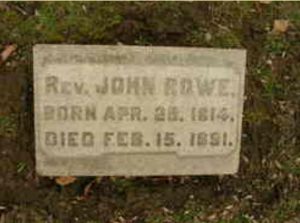 Children of John Rowe and Lydia Augusta Greene

The Emden, Town of Yore book, having been published in 1929, had this to say about the family of Lydia Augusta Greene and Rev. John Rowe at that time: "They had a big family, now scattered through the middle west as follows [the names have been arranged in the order of birth]:
Laura Rowe (Mrs. James Miller of Norwood, Ohio)
Mary Greene Rowe (Mrs. Elbert Keith of Delaware, Ohio)
Jessy Rowe (l854) born at South Point, Ohio, and wife of Charles Folger, of 206 Euclid Ave., Springfield, Ohio
Jenny Rowe, twin sister of Jessy, living at Indianapolis with her husband Samuel Denny
David Stevens Rowe of Jackson, Mich.  [Note that the Memorial Chimes article below identifies him as David S. Rowe of Chicago.]
Lydia A. Rowe who died at Springfield, Ohio, February 25, 1928.  [She was the widow of Rev. Hamilton Ott.]
John Rowe of Chicago  [Note that the Memorial Chimes article below identifies him as John C. Rowe of Cleveland.]
Fanny S. Rowe (Mrs. Herbert Sawyer of Grand Rapids, Mich.) [Note the Memorial Chimes article below identifies her as Fanny R. Sawyer of Springfield.]
Barton (Elias B.) Rowe
Article in Memory of Lydia Augusta Rowe (née Greene)