NOTES ON THE BOLINGER/BOLLINGER FAMILY IN SWITZERLAND AND GERMANY,  compiled September 1974 (cont.)
The next generation is represented by Johann Rudolph Bollinger, ca. 1663 – post 1718. The church records refer to him as a "beisitzer," translated variously as "member of a committee," "assessor," or "assistant judge." However, a record of his fourth child, Clara, refers to him as a "cowherd." The former might have referred to some minor village office that he held at some point while the cowherd may have been his occupation. An additional reference to Johann Rudolph in a listing of property owners in 1718 when he would have been at least 55 casts further light on the matter.  Reproduced in the book 900 Jahre Walheim, 1071-1971, published by the town of Walheim in 1971, it describes in a couple of words the nature of each parcel of property and, for most, it gives the value of the property. If this was a fairly accurate reflection of the relative economic standing of the families in Walheim, Johann Rudolph was fairly poor. He owned a house and farm worth 125 florins.  A frequency distribution of the 93 parcels (out of 120 listed) for which values are given, show a range from 10 fl. to 800 f1. (with one at 1200 fl., which I think is the winery). Johann Rudolph's property and the 17 listed as less valuable represented the bottom 18 of the distribution. Seventy-four parcels were listed as being more valuable and the median value was 200 fl. In addition, some individuals owned more than one piece of land.
The family's fortunes may have hit a bottom with the next generation. Johann Rudolph's only son was (Johann) Jacob, 1688-1756. When (Johann) Jacob died, the minister of the church felt it necessary to record this: "Ein aus eigenem verschulden an seinem Leib elender mann,der mehr aus faulheit als not bei [?] yahren nimmer aus dem bett gekommen, also fast lebendig verdorben, wurde ohne viel wesens zu machen bei einer betstunde den 30. begraben." [Capitalization may be incorrect due to my copying.]  Translated it means: "He was a poor man due to his own fault, not because of need but because he was lazy–he didn't get out of bed for [unreadable] years.  Therefore he nearly ruined himself while alive and so he was interred without ceremony during the hour of prayers on the 30th."
He was 67 when he died. It sounds as if he was an embarrassment to the whole town. He was a widower at the time and I wonder if his wife's death 6 years earlier was a factor in his behavior.  Incidentally, when his sister, Margaretha, died 5 years later in 1761, it was noted in the church records that she died "poor and unmarried."
Incidentally, it was with (Johann) Jacob's generation that the church records begin referring to the head of the family as a "weingartner," translated variously as wine grower, wine maker, or vine dresser.
With the next generation, things may have been looking up.  (Johann) Jacob Bollinger had 2 sons, Hans Jacob, born 1718, and Johann Conrad, our ancestor, born 1721. Johann Conrad married a member of the prolific Bezner family. (There were six different Bezners owning property on the 1718 list, two Bezners were Bürgermeisters during the 18th-19th centuries, and a street in Walheim is called Beznerstrasse.)  Church records list Johann Conrad as "Bürger und Weingartner," "citizen and winemaker [?]," the first time this term was applied to a member of the family. The term was used to describe the head of the family in each of the subsequent generations in Walheim. (This description, however, may only reflect the completeness of the church records rather than the prosperity of the ancestors involved.)
Johann Conrad's marriage in 1746 was to Rosina Bezner, daughter of Johann Georg Andreas Bezner. Among the property owners in 1718 was a Hanz Bezner owning 2 pieces of property, one worth 200 fl., and a Georg Bezner, owning 3 parcels worth a total of 615 fl.  In 1775, when Johann Conrad Bollinger would have been 54, a Johannes Georg Bezner became Bürgermeister. (The nickname Hans, it should be noted, was short for Johannes.) One of these men may have been Rosina's father.
Bollinger Relatives in the Walheim Area
Since Johann Rudolph in all probability was born in Switzerland (the absence of any birth date for him in the Walheim church records strongly suggests this), unless he had some brothers who came to Walheim with him, the only other descendants of Bollingers carrying the family name in the Walheim area would be (Johann) Jacob's other son, Hans Jacob who married a Margaretha Steeb of Hofen, another community in the area. Note that Rev. Schütt's letter of Nov. 11, 1963 says that one of the towns with Bollingers is Hofen.  Also, according to the July 16, 1974 letter from the Walheim Bürgermeister's office, the Gottleib Bollinger who is buried in the Walheim cemetery (died 1961) was born in Hofen in 1902. Finally, if the Walheim church records are comprehensive, since they show nothing further about Hans Jacob after his marriage in 1753, this suggests that he moved away, possibly settling in Hofen with his bride.
Length of Time the Bollingers Lived in Walheim
Since Johann Rudolph presumably had settled in Walheim by the time of his marriage in 1683, the Bollinger family lived there 144 years (1683-1827), with the last of the family emigrating to Hagerstown, Maryland, in 1827.
Reasons for Departing Walheim
The two key dates in our family's departure from Walheim, 1819 when Christian Bollinger left and 1827 when Johann Jacob and his family left, can be compared to the events occurring in Walheim and that part of Germany. This comparison strongly suggests that economic hardship was the reason.
According to a rough translation of the relevant section of 9OO Jahre Walheim, 1071-1971, in 1816 there were eight months of unbroken rain.  It was one of the worst years faced by the town and the crops were very poor.  In 1817 there was a flood and Walheim required loans in order to recover. In 1824 there was a freak rainstorm and the Neckar River, on the edge of which Walheim nestles, burst its banks.  People were stranded in their homes and nearby Besigheim suffered deaths. It wasn't until 1827 that the town was able to repay the major loan it had gotten in order to recover from the flood. On top of everything else, according to The Atlantic Migration, 1607-1860, published in 1961, there was a bitter winter in 1825-26 followed by a worse one lasting well into the spring of 1827. Reserve food supplies had been exhausted by the first bad winter and the second year of shortages caused sharp price rises. In addition, the extreme cold had injured the vineyards on which our family apparently depended.
After this nearly continuous series of disasters, it is not suprising that Johann Jacob Bollinger, father of Johann Gottlieb Bolinger and great-grandfather of Arthur J. Bolinger of Versailles Missouri, decided to move to the United States in May of 1827, particularly since presumably his younger brother, Christian, who had been in Maryland for the previous eight years, would have described the conditions there by letter, conditions which might have sounded pretty good by comparison to Walheim.
Christian's own departure for America in 18l9 may have been motivated by more than just economic necessity. Having been born in 1798, he was only 16 when both his parents died in 1814. His older brother, Johann Jacob, by then was 29, married, and the father of three children. The Walheim City Hall contains bills for the guardianship of Christian from 1814-1824. Christian left for America as soon as he turned 21. There may not have been much to keep him in Walheim.
In response to my request for additional information on the family's history in Walheim, Mr. Otto Klein of that town sent the following letter dated Sept. 14, 1994.  On the third page, note in particular that in item IV, Christian Bollinger, born in 1798 is shown as emigrating to America in 1818.  He was still single.  And in item V, his older brother, Johann Jacob, born in 1785, who was 13 years older emigrated to America in 1827 with his wife and five children.  His wife may have died en route or shortly after arriving in America since I have not found any references to her after their arrival.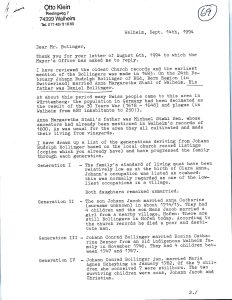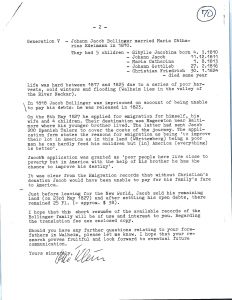 Note that Johann Gottlieb Bollinger (later John G. Bolinger), was only 11 when the family moved to America.  At that age he would have been better able to adjust to a new society and a new language than if he had been older.  Imagine growing up in Hagerstown, where there must have been plenty of German speakers, and where he could learn English and a trade at the same time.  He may have been apprenticed to a tinner.  And he may have gone to a public school if one was available.