The following article appeared in the Los Angeles Examiner, Oct. 1, 1930, just eight years after the Schrynemakers-Moeren family settled in Los Angeles.  It was provided to me by a Moeren cousin, Barbara Simons-Fischer of Deventer, The Netherlands, in 2002.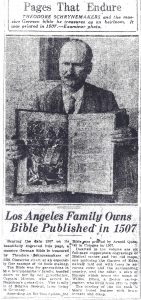 The text of the article is as follows:
"Los Angeles Family Owns Bible Published in 1507
"Bearing the date 1507 on its beautifully engraved title page, a massive German Bible is treasured by Theodore Schrynemakers of 5201 Cimarron street as an especially fine example of old book making.
"The Bible was for generations in Mrs. Schrynemakers family, handed down to her by her grandfather, Captain Moeren, who served in Napoleon's grenadiers.  The family is of Belgian descent, later living in Germany.
"According to the inscription, the Bible was printed by Arnold Quentel in Cologne in 1507.
"Inserted in the volume are six full-page copperplate engravings of Biblical scenes and two old maps, one picturing the Garden of Eden naively laid out with trees in accurate rows and the surrounding country, and the other, a map of Europe which bears the name of Willim Blaeu, a Dutch cartographer, who lived from 1571 to 1638.
"The binding of the old book is heavy tooled leather with brass corners and clasp."
Something as massive as this Bible would not have been something they took with them when they fled Belgium in 1914.  It seems likely that they obtained it in 1930 because (1) Louise Moeren, sister of Ida Moeren Schrynemakers, died on Dec. 12, 1929, (2) my cousin, Barry Hichens, remembered Theodore and Ida going back to Belgium in the early 1930s, and (3) a friend of the family provided me a photograph showing Theodore and Ida being welcomed back at the train station, probably in Los Angeles, around 1930.  It seems likely that they had gone to Belgium to help settle the affairs of Louise Moeren.
When I looked into this back in 2002, a dealer in rare Bibles said that if it is in Latin, it would be worth $3000-4000.  But if it is in German, it would be worth $10,000,000, since printing in Bibles in German did not begin until 1530.
I would like to trace the current ownership of the Bible.  If permitted, I would like to be able to look at it, hold it, photograph it so that I can give pictures of it to members of the family, and look through it to see if it has any listing of Moeren ancestors.  Contact Bruce Bolinger at bcbolinger at comcast.net.