I began posting information on this page on Sept. 11, 2018.  It is based on what Dwight Bolinger obtained from Aunt Julia and various letters from A.J. Bolinger.  A.J. said the following:
That his grandmother, Roxanna Preston, said that the Prestons were of Scottish descent, even though Preston is a Lowland English name.
A family story was that when the first of the family came to America that after they had located, the wife, a daughter of a Highland clan chief, went back to Scotland to sell their property.  She was traced with the money to the returning ship but was not on the ship when it docked and no one would admit to knowing anything about her.
That the Prestons were among the earlier settlers of the Mohawk Valley in New York and didn't leave there until the opening of the Western Reserve in Ohio, when many from that area migrated west.  They stayed in the Western Reserve only a few years before moving to Noble County, Indiana to the village of Ligonier.
AJ Bolinger's grandmother, Roxanna Preston, told him about the huge mica rocks (in the Mohawk Valley) on which she and her brothers and sisters played on and how they would peel off great slabs of mica.  She also said that there was spring near their home where there was a huge outpouring of oil and how the Indians went there and dipped a blanket in the oil, then wrung it out to get the oil for their medicines.
The ancestors for whom we have names are as follows:
Augustus Adolphus Preston
His son was John Preston.
John Preston (1761-1806)
John Preston served as a Corporal in Col. Van Woert's regiment of militia in Albany and Ogdensburg, New York, during the Revolutionary War.  (A.J. Bolinger also referred to him as being named, instead, as Charles Preston, a soldier in the New York volunteer infantry during the Revolution who was later captured, imprisoned, and died of the hardship of imprisonment in the British hulks maintained as prison ships.  But those dates don't fit what he provided about John Preston.)   Born in 1761 and died in 1806.   In 1780 he married Marie Auveris (1764-1816).  Their son was Lucius Preston, 1796-1876.
2. Lucius Preston (1796-1876)
Lucius Preston was born Feb. 22, 1796 in St. Lawrence County, New York, and died Feb. 12, 1876.  He lived in or near the town of York.  He married Elizabeth Wiley, sister of Roxana Wiley.  Elizabeth Wiley was born in Ogdensburg, New York Jan. 29, 1799 (?) and died May 16, 1860.  Notation by Dwight reads, "Kept prisoner in cellar when British crossed river on ice."  [I hope to find more information on this .]  Their daughter was Roxana (Roxanna?) Preston.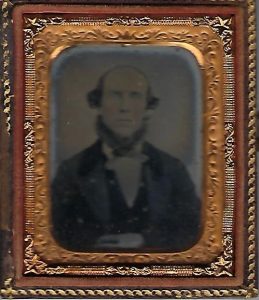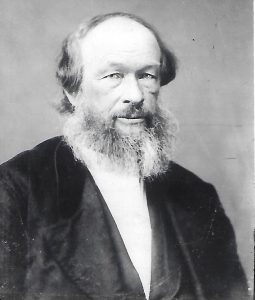 3. Roxana (Roxanna?) Preston
Roxana (Roxanna) Preston was born Oct. 23, 1830 and died Apr. 19, 1902.  She married Joel Hostetter, born June 2, 1827 and died May 12 (?), 1898.  Their daughter, Ada Adelia Hostetter, married William Bolinger and their son was Arthur Joel Bolinger.
4. Ada Adelia Hostetter
Preston Family Antique Gaming Table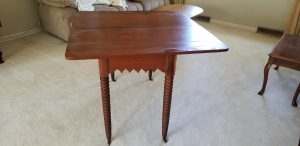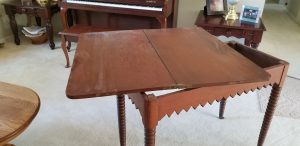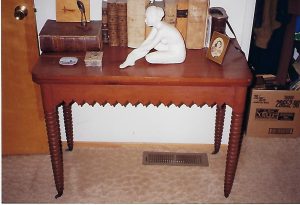 For more on William Bolinger, see the Kansas Branch of the Bolinger family.