William Bolinger
William Bolinger, born in 1847 in Sharpsburg,  would have been about seven years old when his mother, Mary Cronise, died Feb. 11, 1854.  His father  remarried five months later to Susan Spong, on July 13, 1854.  (See the page on the Springfield branch of the Bolinger family for more on the descendants of this match.)  William would have been about 15 when Johann Gottlieb (John G.) Bolinger took the family west in 1862.  According to Arthur Joel Bolinger, the children of the first marriage did not approve of Johann Gottlieb's remarriage.  It is likely that William set out on his own as soon as possible.  He would have turned 21 by 1868.  He went into business with his brother George in Shelbyville, Illinois, but moved to Kansas because his wife was homesick for her parents.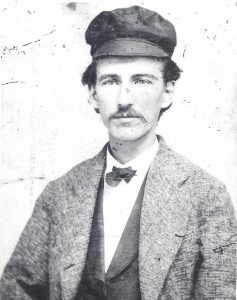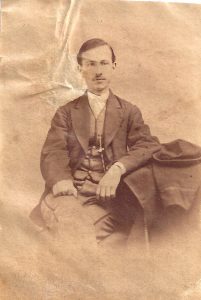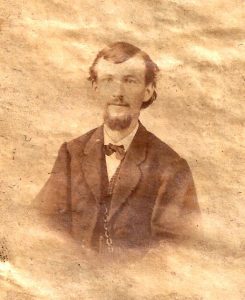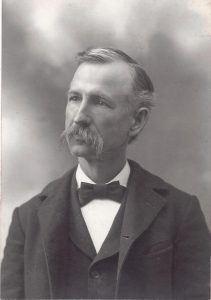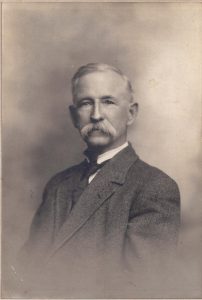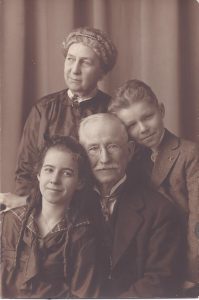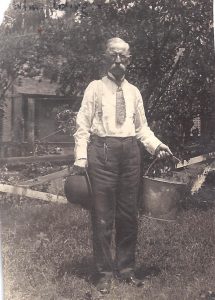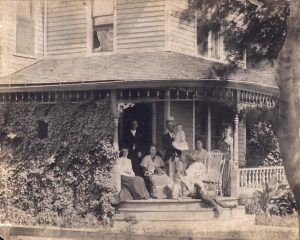 William was active in the Modoc Club, a well-known men's singing club.  According to his son, AJ Bolinger, William had a singing voice with a range of 2 1/2 octaves and was approached by a patron of the Metropolitan Opera in New York City with a contract to study at a conservatory and later sing at the Met.  William turned him down.  William said that his voice came from his mother, Mary Cronise.  He sang at conventions and the GAR encampment.  A program of one of the Modoc Club's performances, below, shows him as first tenor, singing selections from Rossini, Verdi, and Gounod's "Soldiers Chorus" from Faust, among others.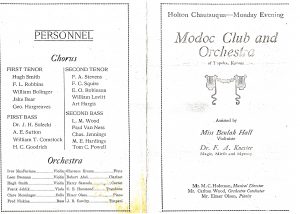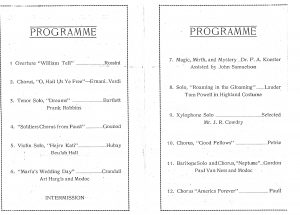 Although the date of publication of the following article is unknown, it may have been 1909, judging from a reference toward the end of the article.  William Bolinger was most likely active in it by the time of its publication.  Note also the reference to the "Soldiers Chorus."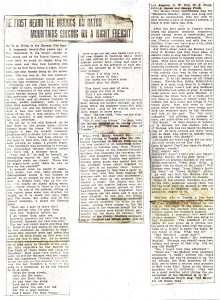 A.J. Bolinger said of William, "My father was always a skating fan and a very fine one.  He loved especially to go at night if there was a good moon, build a fire on the bank and skate till all hours.  We did that all my life up until the time we moved to Topeka after which there was no skating water available."  (Letter to Dwight Bolinger, Jan. 10, 1957.)
William was also an inventor.  According to a family story, he patented an ice cream-making machine, probably around 1897.  No record of it in the Patent Office exists, so the patent may only have been applied for, giving him temporary protection.  Patents were issued for two other inventions, a replanting attachment for cultivators in 1892 and a fruit evaporator in 1896.  See their diagrams below.   The ice cream machine was his last venture.  According to Arthur Joel, William was never able to get the necessary financial backing from a harvester company for his farm tool.  The sun was so much cheaper that the drier did not go over.  William did sell territory to people to attempt sales.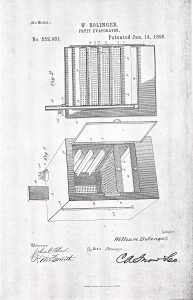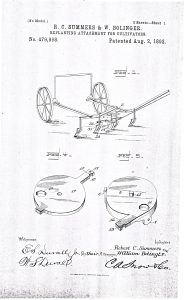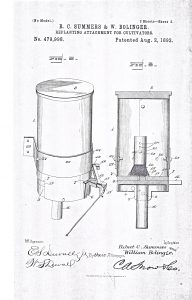 As noted below, William raised cattle and ran a hardware business.  After moving to Topeka, he opened a store specializing in sewing-machines and musical instruments.
William Bolinger and his wife Ada Adelia Hostetter, had two sons, Arthur Joel Bolinger, born in 1881, and William A. Bolinger born in 1874.  Among other things, William worked variously as a clerk and a "Special Agent" for the Census Bureau from 1900 to at least 1913.  William died Aug. 29, 1928, age 83, and was buried in the Memorial Park Cemetery, Kansas City, MO.  Prior to his death he had been living at 15 W. 38th St., Kansas City, MO.  The marker for his grave site carries the Masonic Square and Compasses symbol of the Freemasons.  Lying beside him is his wife, Delia, who died in 1935.  Next to them are Delia's sister, Julia (dec. 1941), and Julia's husband, Sam Anderson (dec. 1933).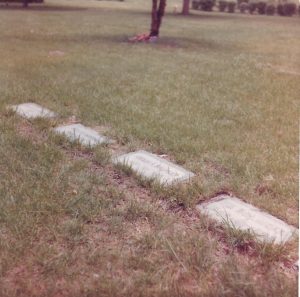 Arthur Joel Bolinger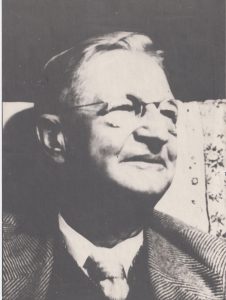 The following is based upon an obituary prepared about AJ Bolinger with additional material added by the webmaster :
BOLINGER, Arthur Joel (b. February 2, 1881, Longton, Elk County,
Kansas; d. May 10, 1977, Versailles, Missouri.)
Judge Bolinger was the son of William Bolinger (1846-1928) and Ada Adelia Hostetter (1853-1935). His boyhood was spent in Longton and Eureka, Kansas. At Longton his father raised cattle and ran a hardware business. Young Bolinger started school at nine; his mother, a former teacher, covered the first three grades at home.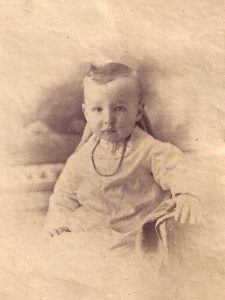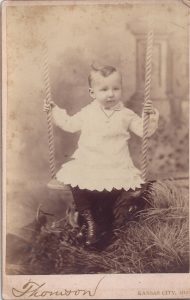 As Longton had only grade schools, in l894 the family moved to Eureka, where Arthur attended the Southern Kansas Academy, a Congregational missionary school, graduating in 1898. During this time the family farmed near Eureka and later had a furniture store and tinsmithy in town.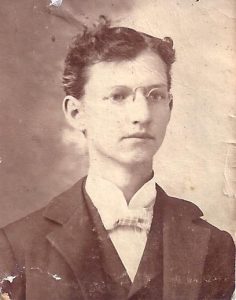 The family then moved to Topeka, in 1900, to enable Arthur to live at home while attending Washburn College, now Washburn University. His father opened a store specializing in sewing-machines and musical instruments (he belonged to the Modoc Club, a singing group).
While at Washburn, Bolinger earned money by delivering newspapers on horseback. He helped found, and was president of, a Socialist Club–which almost caused him to be expelled from college.  He organized a college band, played the cornet, and was a charter member of Tau Delta Pi, the honorary scholastic society. He joined a "regiment of crusaders" for Carrie Nation that demolished a number of saloons.
His academic record at Washburn was generally good.  In his first year, he received all A's in Math, English, Latin, and Greek (except for the first semester of Greek when it was a B).  In the second year he received A's in Greek, French, and English but a B in Math and a C in French both during the second semester.  In his third year his performance slipped a bit, with A's and B's in Greek,  an A and then a B in "Or" (organ?), a B in French and Ph (?), and a C in Prose Comp.  His final year lists a B in Psychology and a C in Ethics.  Additional hours are credited to him in German, Botany, History, and English.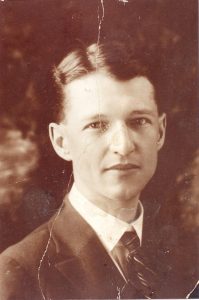 At Washburn he met Nellie Gertrude Ott, daughter of the pastor of Topeka's First Lutheran Church, Hamilton Ott. They were married June 9, 1906. From that union there was one son, Dwight.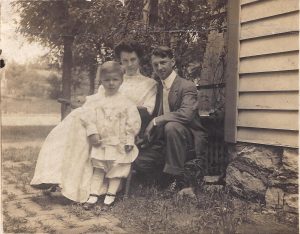 Bolinger originally planned to study medicine, but was inclined toward the law by two lawyer acquaintances, and spent his summers reading law under a friend and teacher, N. H. Loomis–an approved way of entering the Bar at that time. But in 1903 Washburn opened a School of Law, and he combined his last two years of college with his three years there.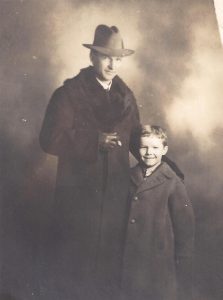 After receiving his A.B. in 1905, Bolinger went to the Indian Territory. He passed the Bar examination in Federal District Court at Okmulgee, I.T., capital of the Creek Nation, and the following year set up practice in Weleetka, where he also edited a Democratic newspaper, The New State Democrat, 1906-07.
When Weleetka failed, in 1907, in its bid to become the county seat, Arthur and Gertrude returned to Topeka. There, at 25, he ran unsuccessfully for the office of judge of the city police court. He worked for several law firms, and was Assistant County Attorney (1909-1910).
Gertrude died in 1915. On August 1, 1916, Bolinger married Ella Bowles Harrison, a descendant of President Benjamin Harrison. From that union there were three children, Ruth, William, and Mary.
Bolinger moved to Kansas City, Missouri, in 1916, and joined a law firm that specialized in railway litigation. When the firm's business was destroyed by the nationalization of the railways in 1918, the Bolingers took up farming near Stover (1919). In 1921 the family moved to Versailles and Bolinger resumed his law practice.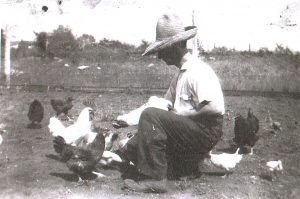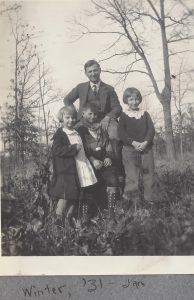 For almost twenty years Bolinger was City Attorney in Versailles.  In 1941, Governor O'Donnell appointed him Judge of the Probate and Magistrate Courts. He retained this position by repeated reelection until his defeat in 1966. He was President of the Missouri Association of Probate Judges (1955-56) and of the Missouri Bar Committee. In the latter capacity he helped rewrite the state's Probate Code. After his defeat he joined his son William in the family law firm of Bolinger and Bolinger.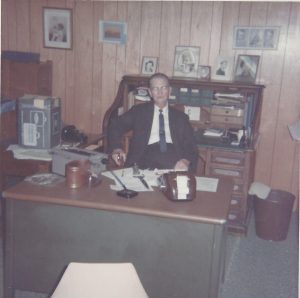 Judge Bolinger was a Republican most of his life, and active in politics till his appointment to the bench. He was also active in the Methodist Church, where he taught Sunday School and at various times directed church choirs.
In               (probably 1964), Judge Bolinger was awarded the honorary degree of  ——- by his alma mater, now Washburn University of Topeka.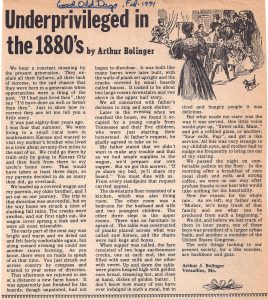 BOLINGER'S POETRY – Article and photo from the Versailles Leader-Statesman, Feb. 6, 1968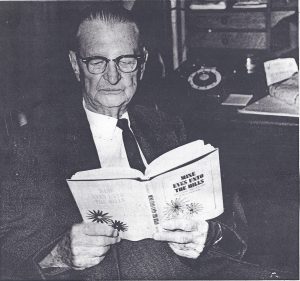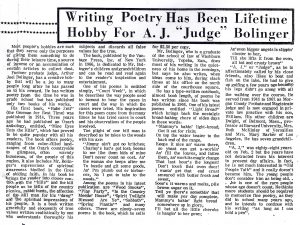 BOLINGER'S MEMOIRS
Probably prompted by family members to set down his memories, he first recorded them on tape.  Click on the link below to hear hear them.  You will first hear a beep and then within about six seconds Bolinger will begin to speak.
Later, Arthur Joel Bolinger typed up his more detailed memoirs, which I have had scanned as four pdf files and posted below.  The contents of the memoirs are as follows:
THE DEATH OF AN ERA
The Story of a Kansas Boy of the 1880s
Chapters I to VII: Pdf file part 1: AJ'S MEMOIRS PART 1
CHAPTER I.  Background in General, pp. 1-6
CHAPTER II.  The Town of Thayer, pp. 6-10
CHAPTER III.  Early Recollections, pp. 11-15A
CHAPTER IV.  We Take a Journey, pp. 16-20
CHAPTER V.  Fun on the Farm, pp. 21-25
CHAPTER VI.  The Writing School, pp. 26-29
CHAPTER VII.  New Scenes and Greener Pastures, pp. 30-39
Chapters VIII to XIII: Pdf file part 2: AJ'S MEMOIRS PART 2
CHAPTER VIII.  The Shape of Things in Little Things, pp. 40-55
CHAPTER IX.  Of Politics and Politicians, pp. 55-59
CHAPTER X.  (no title), pp. 59-64
CHAPTER XI.  Social Life in a Small Town, pp. 64-68
CHAPTER XII.  The Changing Century, pp. 69-71
CHAPTER XIII.  (no title), pp. 72-80
Chapters XIV to XVII: Pdf file part 3: AJ'S MEMOIRS PART 3
CHAPTER XIV.  (no title), pp. 81-86
CHAPTER XV.  The Era of Change, pp. 86-92
CHAPTER XVI.  The Birth of a New Commonwealth, pp. 92-99
CHAPTER XVII.  Journey's End, pp. 99-103
ADDENDUM: Pdf file part 4: AJ'S MEMOIRS PART 4
ADDENDUM
CHAPTER I.  Pioneer Medicines, pp. 1-4
CHAPTER II.  Case and Comment, pp. 1-18
CHAPTER III.  (no title), pp. 1-4
In 2021, AJ's memoirs were published by the University of Kansas Press as Kansas Boy, The Memoir of A.J. Bolinger, edited by Jeffrey H. Barker and Melissa Walker.  Copies can be purchased from the University Press of Kansas, Amazon, and Walmart.  The book cover appears below.