Records in Walheim, Germany, show that Christian was born Mar. 19, 1798.  He was 15 when his mother died on Jan. 22, 1814 and 16 when his father died on Aug. 27 that same year.  Christian and his older brother, Johann Jacob, were the only survivors of the family, seven other children having been stillborn.
Christian's brother Johann Jacob was 29 in 1814 when their parents died.  Johann Jacob was married, already the father of three children, and became Christian's guardian.  A report from Walheim says Christian emigrated to America in 1818, when he would have been 20.  Various naturalization records in Hagerstown, Md., are inconsistent, showing Christian as arriving in the U.S. on Oct. 7, 1817 or Oct. 17 or 27, 1819.  The most reliable of these dates appears to be Oct. 27, 1819 (p. 29, Minutes of Proceedings, November Term, 1922, Hagerstown) the year when he turned 21.
German Migration to Maryland
Christian probably sailed from Bremen, Germany to Baltimore, Md.  The following is from Dieter Cunz, The Maryland Germans, Port Washington, N.Y., 1948, 1972, and Klaus G. Wust, The German Society of Maryland, 1783-1981, Baltimore, Md.: The German Society of Maryland, 1981.
Beginning in 1800, extensive trade relations had developed between Baltimore and Bremen, with ships carrying grain from Maryland to Germany and returning with immigrants.  Starting in the 1700s, large numbers of Germans arriving in American became redemptioners, essentially selling themselves into slavery for their first few years in the U.S., in order to pay for their passage.  During the Napoleonic Wars, emigration dropped off but picked up again in 1815. Crop failures in 1816 and 1817 all over Northern and Central Europe prompted 60,000 Germans to head for Dutch and Northern German ports.  "Poverty stricken by years of war and famine, few among them had enough money to pay their passage to America."  During the 1800s Baltimore became the second-leading port of entry for immigrants after Ellis Island, New York.
Historian Dieter Cunz, pg. 180, wrote the following: "…the nature of the redemption system brought about incredible hardships.  If one member of a family died en route, the rest of the family had to work so much the longer; and if a deceased passenger left no family, the extra years of service were divided among the rest of the immigrants.  Couples, parents and children were torn asunder upon arrival, often never to be reunited in the vast, strange country.  These hardships resulting from the conditions of the system itself were not even the worst that had to be endured.  Many captains exploited their helpless passengers in the most barbaric manner, making them work like slaves, withholding from them even the most primitive necessities of life, so that countless numbers of them succumbed to overwork, hunger and sickness on the voyages.  Their possessions then reverted to the captain, a condition which led to many a captain to hasten the death of a sick passenger….  In order to mitigate wherever possible the hardships attendant upon this inhuman system, charitable societies were formed by Germans in cities along the Atlantic coast…."
An example of what Christian could have been faced with, as described by Klaus Wust, occurred in November 1816 when "upward of three hundred Germans, men, women, and children, arrived in Amsterdam to seek passage to America.  Skipper H.H. Blecker of the ship Jufvrow Johanna offered them passage to Baltimore in return for their signing a contract as redemptioners upon arrival.  The Dutch ship sailed with its living freight in the midst of winter….In Baltimore on Feb. 14, 1817, the thermometer registered four degrees below zero….(A)fter fifteen weeks on the tempestuous Atlantic, (they) sighted the capes (of Chesapeake Bay) in the first days of February and slowly made their way to Annapolis where the ship became ice-bound….  (I)n their joy at having reached the promised land, (the passengers) threw their rotten bedding overboard.  (By then the ship had run out of provisions.)  Acute suffering from the severe cold and hunger set in.  For six weeks the (ship) lay in the ice outside Annapolis before finally arriving at its destination, Baltimore.  Five months had elapsed between the departure from Holland and the sale of the last passenger in Baltimore."
By 1817, the word "immigration" came into existence and The German Society of Maryland, originally established in 1783 to protect German immigrants, was revived.  Through its pressure, the first laws regulating the redemption system were passed in 18l8.
Christian arrived in October, most likely in 1819, so probably the weather, at least, was better than that experienced by the Jufvrow Johanna.  But just getting to his destination was something of an accomplishment.  In the month of October 1819 alone there were 126 shipwrecks recorded, ships that were sunk, wrecked, or otherwise lost according to Wikipedia.
We do not know whether Christian was able to pay for his passage up front or whether he had to become a redemptioner and work for someone who bought his contract.  Christian learned the trade of weaving while still in Germany (see below for more on that).  As a weaver he may have contributed to the family's income before emigrating.  In any event, it appears that he arrived in Maryland with a trade that he could put to use immediately, either working for an established weaver in Baltimore, Hagerstown, or Middletown who had bought his contract or as a regular employee who could keep his earnings.  He probably would have had to work for some time to acquire the looms and other specialized equipment he would need.
Christian in Middletown, MD
We do not know where Christian first settled.  It could have been Baltimore, Hagerstown, Middletown, or somewhere else.  A search for Christian in the Baltimore newspapers for 1817-1822 using newspapers.com did not turn up any references to him.  Nor was there any listing of him in the 1820 Census.  Of course, if he arrived in late 1819, there may not have been enough time for him to have established himself sufficiently to have been noted by the Census takers.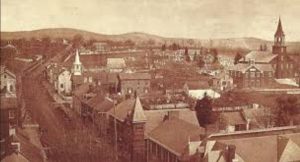 The earliest date that we have for Christian in America is May 10, 1822 when a marriage license was issued to him in Middletown, Maryland for his marriage to Anna Maria Haupt.  (For more about his marriages, see below.)  Records for the Lutheran Congregation of Zion Church in Middletown show members of the Haupt family there as early as 1792, so they were members of an earlier wave of migration to the U.S.
Christian and the Trade of Weaving
In a letter written April 13, 1904 by Herman Routzahn of The Valley Savings Bank, Middletown, MD, to John C. Bolinger, Christian's son, he said that Christian "was a weaver by trade, whose specialty was the weaving of fine Counterpanes [a coverlet for a bed], many of which are still in use in this locality."  A history of Sandusky County, Ohio, said that Christian "was born in Germany and there learned the weaving trade in all its branches.  He was a high grade workman and manufactured many kinds of goods on his looms."  (Twentieth Century History of Sandusky County, Ohio, Richmond-Arnold Publishing Co., Chicago, 1909.)  Grace Bolinger Slessman, Christian's granddaughter, in an interview with the webmaster in 1969, said that Christian wove counter panes, table cloths, linens, etc.  She thought she might still have some in her possession.
The website of the National Museum of the American Coverlet explains that "Coverlets are woven bedcovers, used as the topmost covering on a bed.  The weaver worked on a loom to construct the textile itself one row at a time, and the pattern was woven in as part of the process.  In comparison, quilts are often made by cutting and assembling pattern pieces, then sewing them to a backing with a filler material in between—much like a sandwich.  A quilt is generally assembled from pre-existing cloth.  A coverlet is made from scratch."  [Excerpted from "Coverlets at the Gilchrist, 1771-1889" presented by Melinda and Laszlo Zonger, Cumberland, MD, June 5-July 4, 2005, by Melinda Zonger.]  To view examples of  coverlets, visit the website of the National Museum of the American Coverlet.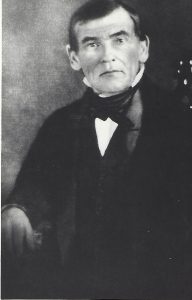 Christian, His First Marriage, and His Family in Hagerstown
Christian and Anna Maria Haupt, daughter of Nicholas Haupt, were married in Middletown, Md., in 1822.  Conflicting dates have her born either Jan. 31, 1791 or 1794, so she was four to seven years older than Christian.  Christian's name appears as a communicant on Whitsuntide, 1822, in Middletown.  Following Christian's and Anna Maria's wedding, they seem to have made a quick switch to Hagerstown where land records show them buying a lot in 1823.  Hagerstown church records show a son, John Joseph Bolinger, born Nov. 29, 1824.  With Hagerstown being a larger city than Middletown, there may have been greater economic opportunity for Christian. He and Anna Maria sold a lot to Henry Haupt in 1827.  That same year Christian sent Spanish thalers to his older brother, Johann Jacob, in Germany for the passage of the rest of the Bolinger family to America. It had been eight years since Christian had last seen his brother and his brother's family. It was also in 1827 that Christian became a naturalized citizen.
It appears that Anna Maria Haupt was illiterate, having had to sign a deed in 1839 with an X when she and Christian bought a lot in Hagerstown and again in 1840 when they sold some property, also in Hagerstown.  (Land records signed by Christian's second wife, Anna Elizabeth Haupt do not show an X.)
The birth of another son to Christian and Anna Maria, Daniel Bolinger, followed on Feb. 26, 1830, also in Hagerstown.  The Kirchen Buch of the German Lutheran Congregation in Hagerstown shows Christian as being one of the communicants on May 30, 1830 and again on Nov. 28, 1832.  The 1830 Census entries in Hagerstown for Christian and his family refers to two children, so apparently both John Joseph and Daniel were alive then.  There were no slaves, aliens, or "deaf and dumb" persons.  That same year, Henry and Elizabeth Haupt sold a parcel in Hagerstown back to Christian and Anna Maria.  Henry and Elizabeth probably were related to Anna Maria but, whatever the family connection, her father's name was Nicholas Haupt.  Christian is listed as paying property taxes in Hagerstown in 1835 and 1836.
Middletown, Maryland
It seems likely that by the mid-1830s, Christian and Anna Maria had moved back to Middletown.  Records of the Middletown Lutheran Church for April 1835 show them as members.  This was the church in which they had been wed in 1822.  Three years later, in 1838, they bought a lot in Middletown for $950 (valued at $31,227 in 2023). In 1839 they sold part of the property they owned in Hagerstown but the land records confirmed that they were by then living in Frederick County, where Middletown is located.  The following year they sold some more of their Hagerstown property to two different individuals.  Middletown and Hagerstown are only some 17-20 miles apart, depending on the route taken, so it would not have been impossible for Christian and Anna Maria to have traveled back and forth on business matters, family visits, etc.
The 1840 Census lists the family of Christian Bolinger as consisting of 1 male (10-15), 1 male (40-50), 1 female (40-50), and no slaves.  Their son Daniel, having been born in 1830, fits in the 10-15 age bracket.  But their first son, John Joseph, born in 1824, is missing from the census results and there are no further references to him.  It appears likely that he died as a child during the 1830s.  (Note that the letter written in 1904 by Herman Routzahn to John C. Bolinger makes no reference to the first son.)
Musical Talent and Community Involvement
In an interview with Grace Bolinger Slessman in 1969, she told me that Christian's third wife, Rachel (see below), told her that Christian had a marvelous singing voice.  He played the flute, his favorite instrument (for a demonstration of how a flute works and the changeover in the mid-19 century from wood to metal, see here), and the clarinet (to see a demonstration of a clarinet, click here). He was noted for his musical ability.  This led to his being in charge of a singing school as well as the church choir.  Compare this to what we know of the active role of William Bolinger, son of Christian's nephew, Johann Gottlieb (John G.) Bolinger,  in the Modoc Club.
Rachel spoke of going to listen to the singing.  She also said that some of Christian's grandsons were musical.  George Carmi Bolinger was a tenor, Howard Bolinger was a baritone, and Grace said she was a high soprano.
The letter from Herman Routzahn to John C. Bolinger in 1904 said, "The Lutheran Church, of which your father [Christian] was an honored member, still exists, having a membership of nearly eight hundred members, the old church in which your father worshiped was torn down in 1859 and a new one erected on the same site, the same year at a cost of about $25000 and in 1863 after the battles of South Mountain and Antietam was taken by the U.S. Army and used for an Hospital, after which it was renovated and has ever since been used for its original purposes."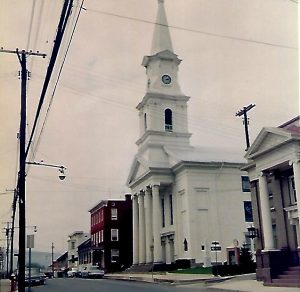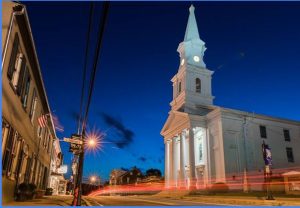 Records of the Lutheran Church in Middletown show Christian's involvement in the church.  On Jan. 1, 1835 he donated 50 cents ($17.37 in 2023 dollars) to help pay off the debt.  He sold fruit trees to the church in 1849 for $1 .  He was listed as a communicant from 1845 to 1858 and was making weekly payments of 25 cents during 1845 and 1847 (25 cents in 1845 is equivalent to $10.06 in 2023 dollars).
According to a Historical Sketch of the Lutheran Church printed in 1915, German was used exclusively until 1826.  After that German and English were used alternately.  Finally, in 1834, German was abandoned in favor of English.  Christian may have participated in the whatever debates there were on the what the church's language policy should be.
On Dec. 12, 1851, the Catoctin Whig reported that at a meeting of the Independent Hose Company, Christian and 22 others were made Honorary Members.  According to their website, "the Independent Hose Company is Frederick County Maryland's Fire & Rescue Station #1. We are Maryland's oldest volunteer Fire Company in continuous operation having been instituted in 1818. We are celebrating our 200th anniversary in 2018."
Family Ties to His Brother's Family
Christian's older brother, Johann Jacob, lived in Hagerstown until his death in 1859.  As his children grew up, married, and had their own families, it appears likely that they kept in touch with Christian.  John Cronise Bolinger, one of the sons of Johann Gottlieb Bolinger (John G.), born in September 1841, who lived in Sharpsburg and later Hagerstown, in a letter he wrote to John C. Bolinger of Ohio in 1904, said, "In my boyhood days I spent many pleasant weeks at Uncle Christian Bolinger's at Middletown."  And John Gassman, son of Johann Jacob's daughter Savilla and George Gassman, wrote to John C. Bolinger in 1904, referring to Christian, "I remember when he visit (sic) us, I was only 10 or 12 years old, but I remember him well how he used to take me on his lap, etc."
1850 Census
In the 1850 Decennial Census Christian Bolinger was listed in Middletown as being a weaver with $1000 worth of real estate, or $39,191 in 2023 dollars. He was 51, his wife, Mary, was 55, and their son, Daniel, was 20 and attending school.
Tragedy Strikes in 1851
In 1851, Christian was hit by two tragedies.  His wife, Anna Maria, died on April 20, aged 57 yrs., 2 mos., and 19 days.  (A list of communicants in the Evangelical Lutheran Church Zion of Middlefield, last listed her in 1847, which suggests illness may have kept her away, but the absence of her name may have been nothing more than careless record-keeping.)  And then Christian's only son died Dec. 24, 1851, aged 21 yrs., 9 mos., and 26 days, in Gettysburg, Pa.  Routzahn's letter of April 13, 1904 attributed his death to "profuse bleeding of the nose."  [A search on the Internet produced several potential causes of such bleeding.]  Daniel had been enrolled at Pennsylvania College (later renamed Gettysburg College).  According to the Routzahn letter, he was being educated for the Lutheran ministry.  The Gettysburg College Alumni Record simply notes "Bollinger, Daniel L.  Attended 1850-51.  From Middletown.  Died during college course, 1851."  Daniel's gravestone reads, "Here are afflictions and trials—Here is no rest—is no rest.  Here I must part with the friends I held dear. Yet I am blest – I am blest."
Christian's Second Marriage
Christian remarried on March 25, 1852 to Anna Elizabeth Haupt of Catoctin Valley (Loudoun, Va.).  By then Christian was 54 and Anna Elizabeth, born June 12, 1823, was 28.  There are two different versions as to what her relationship was to Christian's first wife.  Grace Slessman said that they were sisters but the Routzahn letter of 1904 to John C. Bolinger identified her as Anna Maria's niece which, because of the age difference, seems more likely.  Routzahn said that Anna Elizabeth's father was Jonathan Haupt.  Anna Elizabeth Haupt and Christian Bolinger had only one child who died in infancy, according to Routzahn.  And then on Dec. 18, 1857, Anna Elizabeth died of pneumonia.  (At that time of year severe weather, combined with the medical practices employed back then, may have contributed to her death.) She was only 34 years old.  She is buried in the Reformed Cemetery in Middletown.  Christian, by then 59 years old, was once again a widower, and without an heir.
Christian's Third Marriage
Seven months after the death of Anna Elizabeth, Christian took a third wife, Rachel Crawford.  The Hagerstown Herald of Freedom and Torchlight of July 14, 1858 picked up a story from the Middletown Register as follows: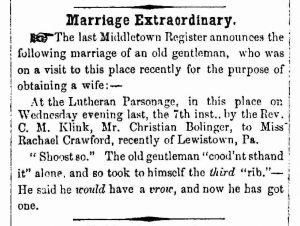 The ceremony was at the Lutheran Parsonage in Middletown, the Rev. C.M. Klink officiating.  Rachel had recently moved there from Lewistown, Pa.    Perhaps because of the considerable age difference between them (he was 60 and she was 27), a marriage contract between them was recorded August 30, 1858 making her his sole heir (presumably to prevent Christian's relatives from making claims to his estate).  A son, John Christian Bolinger (later to be known as John C. Bolinger), was born to them on Aug. 7, 1859.  Just over two weeks later, on August 22, Christian died at a barn-raising when a timber fell on his chest crushing him, according to Grace Slessman.   A news item in the Middletown Valley Register reported the death as caused by "dropsy at the heart."  His age was reported as 61 years, 5 months, and 4 days.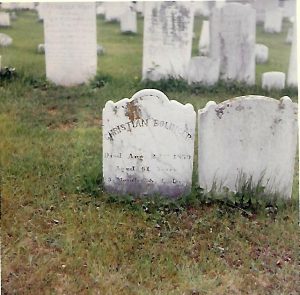 Even with the marriage contract making Rachel Christian's sole heir, it was necessary for her to bring legal action against her infant son in order to be able to sell Christian's property.  Documents trace the proceedings from Aug. 14, 1860 through to May 7, 1861.  In the final accounting there is a list of notes owed to Christian as follows: Joshua Routzahn, $200 and $100; Jacob N. Haupt, $200; Daniel Reub, $50; Isaac Michael, $75; Daniel Smith, $125; J. Neymyer, $50; Ezra Derr, $100; George Williamson, $350; Arthur McWade, $27; Henry Thomas, $40; plus smaller amounts owed by Dr. W.E. Boteler, David Koogle, S. Haupt, Joseph Power, and J.W. Haupt.  The total owed to him came to $1452, or $50,439 in 2023 dollars.  It would appear that Christian Bolinger had been fairly prosperous.  (In 1854 records show he loaned $350 in cash to Earnest A.C. Fox.  That is worth $12,737 in 2023.)  After deducting for debts owed by Christian's estate, Rachel was left with $953, or $33,105 in 2023 dollars.  This was May 7, 1861.  Maryland was a Border State in the Civil War, Confederate forces had fired on Ft. Sumter April 12, and the Baltimore Civil War Riots took place from April 18-19,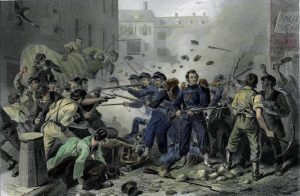 so there was probably little reason for Rachel to remain in Middletown, and good reason to leave.  She may have seen that moving west would be safer.  According to Grace Slessman, Rachel, the infant John C. Bolinger, and Rachel's mother, Margaret Crawford, moved west to the small town of Clyde, Ohio, population 700, with the Rev. Klink and his family.